Only Moons Token Locker V1 - Smart Contract Audit Report
Summary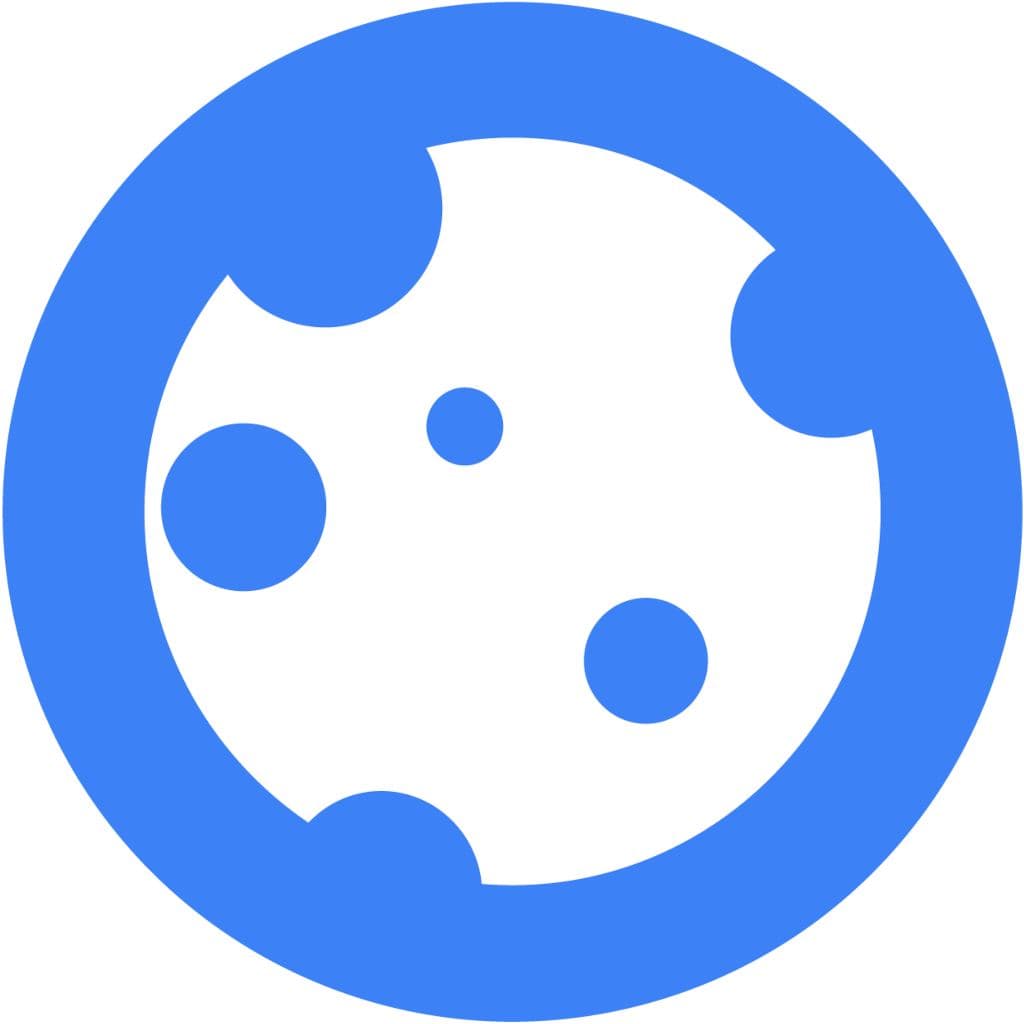 Only Moons is building a platform that enables users to create and manage their own token lockers.
We reviewed the project team's contracts deployed at 0x016c1D8cf86f60A5382BA5c42D4be960CBd1b868 on the Binance SmartChain Mainnet.
Notes on the Contracts:

Anyone can use the TokenLockerManager contract to create a new TokenLocker contract; the user is declared the owner of the new TokenLocker contract.
On creation, the user specifies the token address, the amount to lock, and the unlock time.
The tokens are immediately transferred to the TokenLocker contract.
The owner of the TokenLockerManager can enable or disable the creation of TokenLockers at any time.
The owner of the TokenLocker can deposit additional tokens and set a new unlock time at will. The new unlock time must later than the unlock time currently set, and it must be a future time.
Once the unlock time has passed, the owner of the TokenLocker can withdraw the locked tokens from the contract.
The owner of the TokenLocker can withdraw any ETH or tokens, except for the locked tokens, erroneously sent to the contract.
The owner of the TokenLocker contract can transfer the ownership of the TokenLocker contract to any other address at any time.
The logic within the deposit and withdrawal functions is properly structured to prevent any re-entrancy attacks.
As the contracts are deployed with Solidity v0.8.10, they are safe from any possible overflows/underflows.
The team worked with us to optimize these contracts for gas efficiency.


Audit Findings Summary:

No security issues from outside attackers were identified.
Date: November 24th, 2021.
Updated: December 6th, 2021 to include new mainnet deployment address.
External Threat Results
| Vulnerability Category | Notes | Result |
| --- | --- | --- |
| Arbitrary Storage Write | N/A | PASS |
| Arbitrary Jump | N/A | PASS |
| Centralization of Control | N/A | PASS |
| Delegate Call to Untrusted Contract | N/A | PASS |
| Dependence on Predictable Variables | N/A | PASS |
| Deprecated Opcodes | N/A | PASS |
| Ether Thief | N/A | PASS |
| Exceptions | N/A | PASS |
| External Calls | N/A | PASS |
| Integer Over/Underflow | N/A | PASS |
| Multiple Sends | N/A | PASS |
| Suicide | N/A | PASS |
| State Change External Calls | N/A | PASS |
| Unbounded Loop | N/A | PASS |
| Unchecked Retval | N/A | PASS |
| User Supplied Assertion | N/A | PASS |
| Critical Solidity Compiler | N/A | PASS |
| Overall Contract Safety | | PASS |
TokenLockerManagerV1 Contract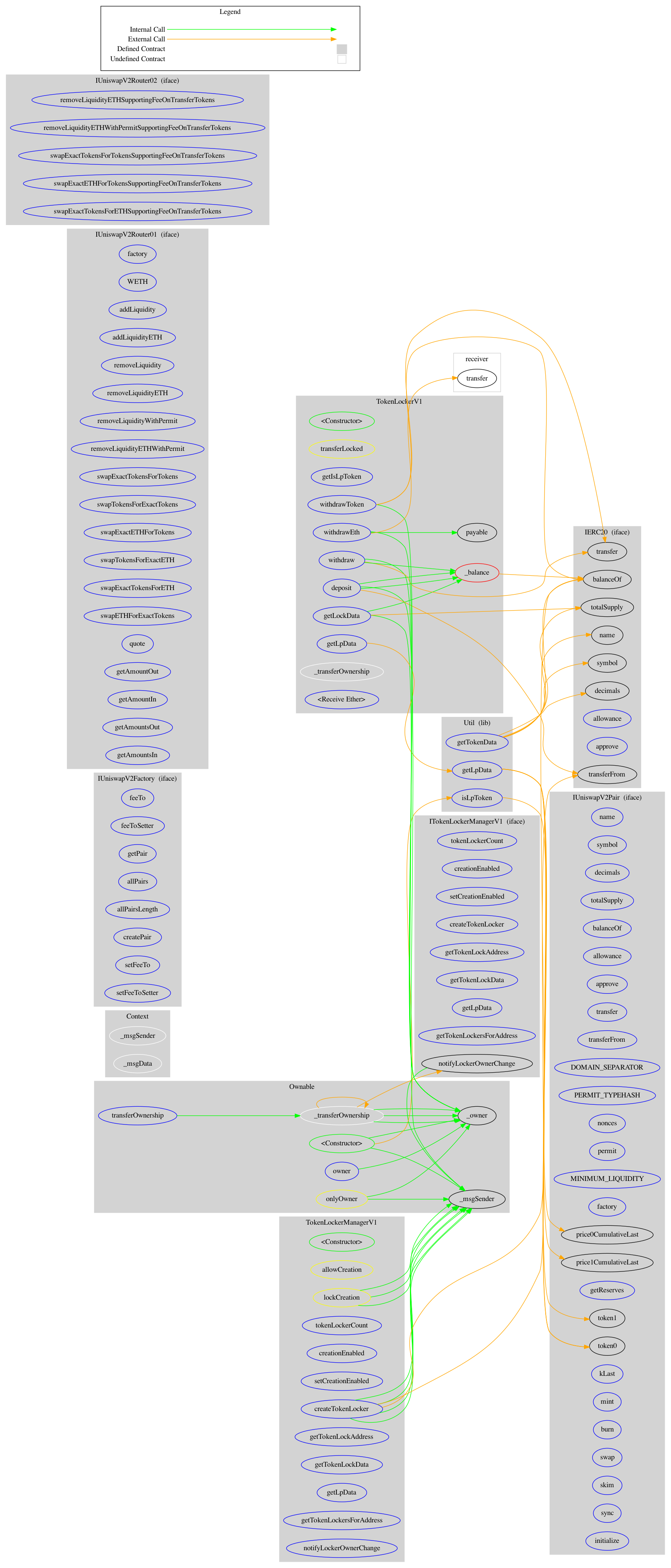 ($) = payable function
 # = non-constant function
 
 + [Int] ITokenLockerManagerV1 
    - [Ext] tokenLockerCount
    - [Ext] creationEnabled
    - [Ext] setCreationEnabled #
    - [Ext] createTokenLocker #
    - [Ext] getTokenLockAddress
    - [Ext] getTokenLockData
    - [Ext] getLpData
    - [Ext] getTokenLockersForAddress
    - [Ext] notifyLockerOwnerChange #

 +  Context 
    - [Int] _msgSender
    - [Int] _msgData

 +  Ownable (Context)
    - [Pub]  #
    - [Int] _owner
    - [Ext] owner
    - [Int] _transferOwnership #
       - modifiers: onlyOwner
    - [Ext] transferOwnership #
       - modifiers: onlyOwner

 + [Int] IERC20 
    - [Ext] name
    - [Ext] symbol
    - [Ext] totalSupply
    - [Ext] decimals
    - [Ext] balanceOf
    - [Ext] transfer #
    - [Ext] allowance
    - [Ext] approve #
    - [Ext] transferFrom #

 + [Int] IUniswapV2Factory 
    - [Ext] feeTo
    - [Ext] feeToSetter
    - [Ext] getPair
    - [Ext] allPairs
    - [Ext] allPairsLength
    - [Ext] createPair #
    - [Ext] setFeeTo #
    - [Ext] setFeeToSetter #

 + [Int] IUniswapV2Pair 
    - [Ext] name
    - [Ext] symbol
    - [Ext] decimals
    - [Ext] totalSupply
    - [Ext] balanceOf
    - [Ext] allowance
    - [Ext] approve #
    - [Ext] transfer #
    - [Ext] transferFrom #
    - [Ext] DOMAIN_SEPARATOR
    - [Ext] PERMIT_TYPEHASH
    - [Ext] nonces
    - [Ext] permit #
    - [Ext] MINIMUM_LIQUIDITY
    - [Ext] factory
    - [Ext] token0
    - [Ext] token1
    - [Ext] getReserves
    - [Ext] price0CumulativeLast
    - [Ext] price1CumulativeLast
    - [Ext] kLast
    - [Ext] mint #
    - [Ext] burn #
    - [Ext] swap #
    - [Ext] skim #
    - [Ext] sync #
    - [Ext] initialize #

 + [Int] IUniswapV2Router01 
    - [Ext] factory
    - [Ext] WETH
    - [Ext] addLiquidity #
    - [Ext] addLiquidityETH ($)
    - [Ext] removeLiquidity #
    - [Ext] removeLiquidityETH #
    - [Ext] removeLiquidityWithPermit #
    - [Ext] removeLiquidityETHWithPermit #
    - [Ext] swapExactTokensForTokens #
    - [Ext] swapTokensForExactTokens #
    - [Ext] swapExactETHForTokens ($)
    - [Ext] swapTokensForExactETH #
    - [Ext] swapExactTokensForETH #
    - [Ext] swapETHForExactTokens ($)
    - [Ext] quote
    - [Ext] getAmountOut
    - [Ext] getAmountIn
    - [Ext] getAmountsOut
    - [Ext] getAmountsIn

 + [Int] IUniswapV2Router02 (IUniswapV2Router01)
    - [Ext] removeLiquidityETHSupportingFeeOnTransferTokens #
    - [Ext] removeLiquidityETHWithPermitSupportingFeeOnTransferTokens #
    - [Ext] swapExactTokensForTokensSupportingFeeOnTransferTokens #
    - [Ext] swapExactETHForTokensSupportingFeeOnTransferTokens ($)
    - [Ext] swapExactTokensForETHSupportingFeeOnTransferTokens #

 + [Lib] Util 
    - [Ext] getTokenData
    - [Ext] isLpToken
    - [Ext] getLpData

 +  TokenLockerV1 (Ownable)
    - [Pub]  #
       - modifiers: Ownable
    - [Prv] _balance
    - [Ext] getIsLpToken
    - [Ext] getLockData
    - [Ext] getLpData
    - [Ext] deposit #
       - modifiers: onlyOwner,transferLocked
    - [Ext] withdraw #
       - modifiers: onlyOwner,transferLocked
    - [Ext] withdrawToken #
       - modifiers: onlyOwner,transferLocked
    - [Ext] withdrawEth #
       - modifiers: onlyOwner,transferLocked
    - [Int] _transferOwnership #
       - modifiers: onlyOwner
    - [Ext]  ($)

 +  TokenLockerManagerV1 (ITokenLockerManagerV1, Ownable)
    - [Pub]  #
       - modifiers: Ownable
    - [Ext] tokenLockerCount
    - [Ext] creationEnabled
    - [Ext] setCreationEnabled #
       - modifiers: onlyOwner
    - [Ext] createTokenLocker #
       - modifiers: allowCreation,lockCreation
    - [Ext] getTokenLockAddress
    - [Ext] getTokenLockData
    - [Ext] getLpData
    - [Ext] getTokenLockersForAddress
    - [Ext] notifyLockerOwnerChange #