SonOfABit - Smart Contract Audit Report
Summary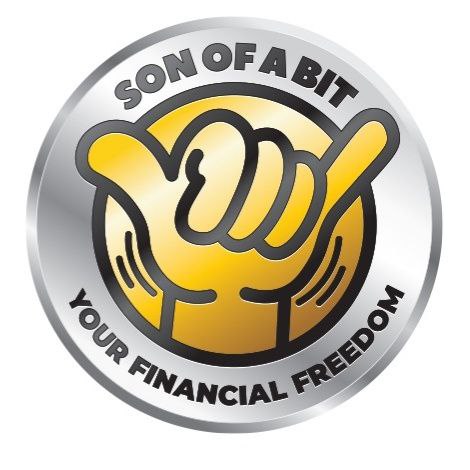 Son Of A Bit is creating a new dividend paying token with liquidity adds and a buyback system for burning supply. They are also building a new staking platform where users can earn additional rewards.
We audited Son Of A Bit's token and SOBStaking contracts at addresses
0xee2e03a2209c39e966e28400234e08e80c4803cd
and
0x25510a06b625a236e1a898add7a4e18db38f0d0d
, respectively.
Notes on the Contracts:
SonOfABit Contract:

The total supply of Son of a Bit tokens ($SOB) is set to one quadrillion (1,000,000,000,000,000).
At the time of writing this report, 100% of tokens are in possession of the owner.
No mint or burn functions are present; though the circulating supply can be reduced by sending tokens to the 0x..dead address, if desired.


When buying or selling, a 'rewards' fee, 'liquidity' fee, 'buyback' fee, 'staking' fee, 'marketing' fee, 'charity' fee, and 'retirement' fee are each taken. There are no fees on non buys/sells.
At the time of writing this report, there is a 14% total buy fee and a 35% total sell fee.
The sum of these fees can be updated by the owner to a maximum of 20% when buying and 30% when selling.
The fees charged on transactions are stored in the contract. Once a threshold value is met, tokens are used to fund PancakeSwap liquidity, distribute fees, and prepare buybacks.
Liquidity-adds are funded by swapping a portion of tokens collected as liquidity fees for BNB, pairing the received BNB with the token, and adding it as liquidity to the BNB pair.
The recipient of the newly created LP tokens is the 0x..dead address.
The remainder of the tokens from fees are swapped for BNB. A portion of this BNB is stored in the contract for buybacks, and the rest is sent to the designated fee addresses.
Any remaining BNB after a liquidity add is stored in the contract and can only be used for buybacks.
The owner can execute a buyback at any time, which swaps BNB for $SOB and subsequently burns them. In order to reduce the risk of frontrunning, buybacks are limited to 10 BNB at once.
A user must hold 10,000 $SOB to be eligible for dividends.


Once dividends are distributed, they will need to be claimed; claiming happens automatically on each transfer. Dividends are paid in BUSD.
Dividend rewards can also be claimed manually by kicking off the claim cycle, which will process all eligible token holders.
Alternatively, a user can manually claim dividends as an individual.
There is an owner-specified wait-time between claiming dividend rewards.
Claimed dividends are sent to the user's wallet address.
Users must wait a minimum delay of one block between transfers until this functionality is disabled by the owner.
This token includes anti-whale logic, which prevents users from executing transfers above a certain maximum transaction amount. In addition, users will be prevented from receiving transfers if it results in their token balance exceeding a maximum wallet amount.
The owner is exempt from the transfer delay and anti-whale logic.
The transfer delay and anti-whale logic can be disabled by the owner ay any time. Once these limitations are disabled, they cannot be reenabled.
At the time of writing this report, trading is 'inactive'. While 'inactive', only addresses excluded from fees can transfer tokens. The owner can enable trading at any time; once trading is enabled, it cannot be disabled again.
Once trading is enabled, users must wait two blocks before trading or they will pay a 99% fee. This is implemented to prevent bot trading.


The owner can withdraw any BNB in the contract while trading is 'inactive'.
The owner is able to include or exclude any address from dividends at any time.
The owner is able to update the marketing, staking, charity, and retirement wallet addresses at any time.
The owner is able to update the maximum amount of gas used for processing to a value between 200,000 and 500,000 at any time; the initial value is 400,000.
The owner is able to update the amount of time a user must wait between claiming dividends to a value between 20 minutes and 24 hours.
The owner can update the maximum transaction amount to any value greater than .1% of the total supply.
The owner can update the maximum wallet amount to any value greater than 1% of the total supply.
The owner is able to toggle the swap and liquify functionality at any time.

SonOfABitStaking Contract:

This contract allows users to stake their $SOB in order to receive rewards in either BNB or a user-specified token.
This contract receives funds through staking fees sent from the SonOfABit contract. This contract also receives BUSD dividends from the tokens staked in this contract.
When dividends are distributed, the BUSD in the contract is coverted to BNB and added to the BNB received from staking fees as dividends to be paid to users.
If desired, a users share of dividends can be swapped for a token of their choice when claiming rewards.
There is an owner-specified wait-time between claiming rewards.
A user must have 100 $SOB staked to be eligible for dividends.
The owner is able to update the amount of time a user must wait between claiming dividends to a value between 1 second and 24 hours.

General Notes Across Contracts:

As the contracts are implemented with Solidity 0.8.x, they are protected from overflows.
ReentrancyGuard is utilized in both contracts where applicable, protecting them from any potential reentrancy attacks.

Audit Findings Summary

No external threats were identified.
Ensure trust in the team as they have some control in the ecosystem.
After trading is enabled, users should not buy or sell tokens until two blocks have passed, or they will pay a 99% fee. This is implemented to prevent bot trading.
Date: December 16th, 2021
Audit Results
| Vulnerability Category | Notes | Result |
| --- | --- | --- |
| Arbitrary Storage Write | N/A | PASS |
| Arbitrary Jump | N/A | PASS |
| Centralization of Control | The owner has the permissions mentioned above. | PASS |
| Delegate Call to Untrusted Contract | N/A | PASS |
| Dependence on Predictable Variables | N/A | PASS |
| Deprecated Opcodes | N/A | PASS |
| Ether Thief | N/A | PASS |
| Exceptions | N/A | PASS |
| External Calls | N/A | PASS |
| Flash Loans | N/A | PASS |
| Integer Over/Underflow | N/A | PASS |
| Multiple Sends | N/A | PASS |
| Oracles | N/A | PASS |
| Suicide | N/A | PASS |
| State Change External Calls | N/A | PASS |
| Unbounded Loop | N/A | PASS |
| Unchecked Retval | N/A | PASS |
| User Supplied Assertion | N/A | PASS |
| Critical Solidity Compiler | N/A | PASS |
| Overall Contract Safety | | PASS |
Details: SonOfABit Contract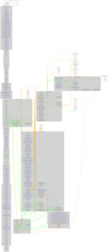 ($) = payable function
 # = non-constant function

  +  Context 
    - [Int] _msgSender
    - [Int] _msgData

 + [Int] IUniswapV2Pair 
    - [Ext] name
    - [Ext] symbol
    - [Ext] decimals
    - [Ext] totalSupply
    - [Ext] balanceOf
    - [Ext] allowance
    - [Ext] approve #
    - [Ext] transfer #
    - [Ext] transferFrom #
    - [Ext] DOMAIN_SEPARATOR
    - [Ext] PERMIT_TYPEHASH
    - [Ext] nonces
    - [Ext] permit #
    - [Ext] MINIMUM_LIQUIDITY
    - [Ext] factory
    - [Ext] token0
    - [Ext] token1
    - [Ext] getReserves
    - [Ext] price0CumulativeLast
    - [Ext] price1CumulativeLast
    - [Ext] kLast
    - [Ext] mint #
    - [Ext] burn #
    - [Ext] swap #
    - [Ext] skim #
    - [Ext] sync #
    - [Ext] initialize #

 + [Int] IUniswapV2Factory 
    - [Ext] feeTo
    - [Ext] feeToSetter
    - [Ext] getPair
    - [Ext] allPairs
    - [Ext] allPairsLength
    - [Ext] createPair #
    - [Ext] setFeeTo #
    - [Ext] setFeeToSetter #

 + [Lib] IterableMapping 
    - [Pub] get
    - [Pub] getIndexOfKey
    - [Pub] getKeyAtIndex
    - [Pub] size
    - [Pub] set #
    - [Pub] remove #

 + [Int] IERC20 
    - [Ext] totalSupply
    - [Ext] balanceOf
    - [Ext] transfer #
    - [Ext] allowance
    - [Ext] approve #
    - [Ext] transferFrom #

 + [Int] IERC20Metadata (IERC20)
    - [Ext] name
    - [Ext] symbol
    - [Ext] decimals

 +  ERC20 (Context, IERC20, IERC20Metadata)
    - [Pub]  #
    - [Pub] name
    - [Pub] symbol
    - [Pub] decimals
    - [Pub] totalSupply
    - [Pub] balanceOf
    - [Pub] transfer #
    - [Pub] allowance
    - [Pub] approve #
    - [Pub] transferFrom #
    - [Pub] increaseAllowance #
    - [Pub] decreaseAllowance #
    - [Int] _transfer #
    - [Int] _mint #
    - [Int] _burn #
    - [Int] _approve #
    - [Int] _beforeTokenTransfer #

 + [Int] DividendPayingTokenOptionalInterface 
    - [Ext] withdrawableDividendOf
    - [Ext] withdrawnDividendOf
    - [Ext] accumulativeDividendOf

 + [Int] DividendPayingTokenInterface 
    - [Ext] dividendOf
    - [Ext] distributeDividends ($)
    - [Ext] withdrawDividend #

 + [Lib] SafeMath 
    - [Int] add
    - [Int] sub
    - [Int] sub
    - [Int] mul
    - [Int] div
    - [Int] div
    - [Int] mod
    - [Int] mod

 +  Ownable (Context)
    - [Pub]  #
    - [Pub] owner
    - [Pub] renounceOwnership #
       - modifiers: onlyOwner
    - [Pub] transferOwnership #
       - modifiers: onlyOwner

 + [Lib] SafeMathInt 
    - [Int] mul
    - [Int] div
    - [Int] sub
    - [Int] add
    - [Int] abs
    - [Int] toUint256Safe

 + [Lib] SafeMathUint 
    - [Int] toInt256Safe

 + [Int] IUniswapV2Router01 
    - [Ext] factory
    - [Ext] WETH
    - [Ext] addLiquidity #
    - [Ext] addLiquidityETH ($)
    - [Ext] removeLiquidity #
    - [Ext] removeLiquidityETH #
    - [Ext] removeLiquidityWithPermit #
    - [Ext] removeLiquidityETHWithPermit #
    - [Ext] swapExactTokensForTokens #
    - [Ext] swapTokensForExactTokens #
    - [Ext] swapExactETHForTokens ($)
    - [Ext] swapTokensForExactETH #
    - [Ext] swapExactTokensForETH #
    - [Ext] swapETHForExactTokens ($)
    - [Ext] quote
    - [Ext] getAmountOut
    - [Ext] getAmountIn
    - [Ext] getAmountsOut
    - [Ext] getAmountsIn

 + [Int] IUniswapV2Router02 (IUniswapV2Router01)
    - [Ext] removeLiquidityETHSupportingFeeOnTransferTokens #
    - [Ext] removeLiquidityETHWithPermitSupportingFeeOnTransferTokens #
    - [Ext] swapExactTokensForTokensSupportingFeeOnTransferTokens #
    - [Ext] swapExactETHForTokensSupportingFeeOnTransferTokens ($)
    - [Ext] swapExactTokensForETHSupportingFeeOnTransferTokens #

 +  DividendPayingToken (DividendPayingTokenInterface, DividendPayingTokenOptionalInterface, Ownable)
    - [Ext]  ($)
    - [Pub] distributeDividends ($)
    - [Ext] distributeTokenDividends #
       - modifiers: onlyOwner
    - [Ext] withdrawDividend #
    - [Int] _withdrawDividendOfUser #
    - [Ext] dividendOf
    - [Pub] withdrawableDividendOf
    - [Ext] withdrawnDividendOf
    - [Pub] accumulativeDividendOf
    - [Int] _increase #
    - [Int] _reduce #
    - [Int] _setBalance #

 +  SonOfABit (ERC20, Ownable)
    - [Pub]  #
       - modifiers: ERC20
    - [Ext]  ($)
    - [Ext] addPresaleAddressForExclusions #
       - modifiers: onlyOwner
    - [Ext] disableTransferDelay #
       - modifiers: onlyOwner
    - [Ext] excludeFromDividends #
       - modifiers: onlyOwner
    - [Ext] includeInDividends #
       - modifiers: onlyOwner
    - [Ext] enableTrading #
       - modifiers: onlyOwner
    - [Ext] updateSwapEnabled #
       - modifiers: onlyOwner
    - [Ext] updateMaxAmount #
       - modifiers: onlyOwner
    - [Ext] updateMaxWalletAmount #
       - modifiers: onlyOwner
    - [Ext] updateBuyFees #
       - modifiers: onlyOwner
    - [Ext] updateSellFees #
       - modifiers: onlyOwner
    - [Pub] excludeFromMaxTransaction #
       - modifiers: onlyOwner
    - [Pub] excludeFromFees #
       - modifiers: onlyOwner
    - [Ext] excludeMultipleAccountsFromFees #
       - modifiers: onlyOwner
    - [Ext] setAutomatedMarketMakerPair #
       - modifiers: onlyOwner
    - [Prv] _setAutomatedMarketMakerPair #
    - [Ext] updateMarketingWallet #
       - modifiers: onlyOwner
    - [Ext] updateStakingAddress #
       - modifiers: onlyOwner
    - [Ext] updateRetirementAddress #
       - modifiers: onlyOwner
    - [Ext] updateCharityAddress #
       - modifiers: onlyOwner
    - [Ext] updateGasForProcessing #
       - modifiers: onlyOwner
    - [Ext] updateClaimWait #
       - modifiers: onlyOwner
    - [Ext] getClaimWait
    - [Ext] getTotalDividendsDistributed
    - [Ext] isExcludedFromFees
    - [Ext] withdrawableDividendOf
    - [Ext] dividendTokenBalanceOf
    - [Ext] getAccountDividendsInfo
    - [Ext] getAccountDividendsInfoAtIndex
    - [Ext] processDividendTracker #
    - [Ext] claim #
    - [Ext] getLastProcessedIndex
    - [Ext] getNumberOfDividendTokenHolders
    - [Ext] getNumberOfDividends
    - [Ext] removeLimits #
       - modifiers: onlyOwner
    - [Int] _transfer #
    - [Prv] swapBnbForRewardToken #
    - [Prv] swapTokensForEth #
    - [Prv] addLiquidity #
    - [Prv] swapBack #
    - [Ext] buyBackTokens #
       - modifiers: onlyOwner
    - [Ext] withdrawStuckEth #
       - modifiers: onlyOwner

 +  DividendTracker (DividendPayingToken)
    - [Pub]  #
    - [Ext] excludeFromDividends #
       - modifiers: onlyOwner
    - [Ext] includeInDividends #
       - modifiers: onlyOwner
    - [Ext] updateClaimWait #
       - modifiers: onlyOwner
    - [Ext] getLastProcessedIndex
    - [Ext] getNumberOfTokenHolders
    - [Pub] getAccount
    - [Ext] getAccountAtIndex
    - [Prv] canAutoClaim
    - [Ext] setBalance #
       - modifiers: onlyOwner
    - [Ext] process #
    - [Pub] processAccount #
       - modifiers: onlyOwner

 
 
Details: SOBStaking Contract


												
($) = payable function
 # = non-constant function

 +  Context 
    - [Int] _msgSender
    - [Int] _msgData

 + [Int] IUniswapV2Pair 
    - [Ext] name
    - [Ext] symbol
    - [Ext] decimals
    - [Ext] totalSupply
    - [Ext] balanceOf
    - [Ext] allowance
    - [Ext] approve #
    - [Ext] transfer #
    - [Ext] transferFrom #
    - [Ext] DOMAIN_SEPARATOR
    - [Ext] PERMIT_TYPEHASH
    - [Ext] nonces
    - [Ext] permit #
    - [Ext] MINIMUM_LIQUIDITY
    - [Ext] factory
    - [Ext] token0
    - [Ext] token1
    - [Ext] getReserves
    - [Ext] price0CumulativeLast
    - [Ext] price1CumulativeLast
    - [Ext] kLast
    - [Ext] mint #
    - [Ext] burn #
    - [Ext] swap #
    - [Ext] skim #
    - [Ext] sync #
    - [Ext] initialize #

 + [Int] IUniswapV2Factory 
    - [Ext] feeTo
    - [Ext] feeToSetter
    - [Ext] getPair
    - [Ext] allPairs
    - [Ext] allPairsLength
    - [Ext] createPair #
    - [Ext] setFeeTo #
    - [Ext] setFeeToSetter #

 + [Lib] IterableMapping 
    - [Pub] get
    - [Pub] getIndexOfKey
    - [Pub] getKeyAtIndex
    - [Pub] size
    - [Pub] set #
    - [Pub] remove #

 + [Int] IERC20 
    - [Ext] totalSupply
    - [Ext] balanceOf
    - [Ext] transfer #
    - [Ext] allowance
    - [Ext] approve #
    - [Ext] transferFrom #

 + [Int] IERC20Metadata (IERC20)
    - [Ext] name
    - [Ext] symbol
    - [Ext] decimals

 + [Int] DividendPayingTokenOptionalInterface 
    - [Ext] withdrawableDividendOf
    - [Ext] withdrawnDividendOf
    - [Ext] accumulativeDividendOf

 + [Int] DividendPayingTokenInterface 
    - [Ext] dividendOf
    - [Ext] distributeDividends ($)
    - [Ext] withdrawDividend #

 + [Lib] SafeMath 
    - [Int] add
    - [Int] sub
    - [Int] sub
    - [Int] mul
    - [Int] div
    - [Int] div
    - [Int] mod
    - [Int] mod

 +  Ownable (Context)
    - [Pub]  #
    - [Pub] owner
    - [Pub] renounceOwnership #
       - modifiers: onlyOwner
    - [Pub] transferOwnership #
       - modifiers: onlyOwner

 + [Lib] SafeMathInt 
    - [Int] mul
    - [Int] div
    - [Int] sub
    - [Int] add
    - [Int] abs
    - [Int] toUint256Safe

 + [Lib] SafeMathUint 
    - [Int] toInt256Safe

 + [Int] IUniswapV2Router01 
    - [Ext] factory
    - [Ext] WETH
    - [Ext] addLiquidity #
    - [Ext] addLiquidityETH ($)
    - [Ext] removeLiquidity #
    - [Ext] removeLiquidityETH #
    - [Ext] removeLiquidityWithPermit #
    - [Ext] removeLiquidityETHWithPermit #
    - [Ext] swapExactTokensForTokens #
    - [Ext] swapTokensForExactTokens #
    - [Ext] swapExactETHForTokens ($)
    - [Ext] swapTokensForExactETH #
    - [Ext] swapExactTokensForETH #
    - [Ext] swapETHForExactTokens ($)
    - [Ext] quote
    - [Ext] getAmountOut
    - [Ext] getAmountIn
    - [Ext] getAmountsOut
    - [Ext] getAmountsIn

 + [Int] IUniswapV2Router02 (IUniswapV2Router01)
    - [Ext] removeLiquidityETHSupportingFeeOnTransferTokens #
    - [Ext] removeLiquidityETHWithPermitSupportingFeeOnTransferTokens #
    - [Ext] swapExactTokensForTokensSupportingFeeOnTransferTokens #
    - [Ext] swapExactETHForTokensSupportingFeeOnTransferTokens ($)
    - [Ext] swapExactTokensForETHSupportingFeeOnTransferTokens #

 +  DividendPayingToken (DividendPayingTokenInterface, DividendPayingTokenOptionalInterface, Ownable)
    - [Ext]  ($)
    - [Pub] distributeDividends ($)
    - [Ext] withdrawDividend #
    - [Int] buyTokens #
    - [Int] sellBusdForBnb #
    - [Int] _withdrawDividendOfUser #
    - [Int] _withdrawDividendOfUserWithReward #
    - [Ext] dividendOf
    - [Pub] withdrawableDividendOf
    - [Ext] withdrawnDividendOf
    - [Pub] accumulativeDividendOf
    - [Int] _increase #
    - [Int] _reduce #
    - [Int] _setBalance #

 +  SonOfABitStaking (Ownable, DividendPayingToken)
    - [Pub]  #
    - [Ext] stake #
       - modifiers: nonReentrant
    - [Ext] unstake #
       - modifiers: nonReentrant
    - [Ext] claim #
       - modifiers: nonReentrant
    - [Ext] claimWithCustomReward #
       - modifiers: nonReentrant
    - [Int] excludeFromDividends #
    - [Int] includeInDividends #
    - [Ext] updateClaimWait #
       - modifiers: onlyOwner
    - [Ext] getLastProcessedIndex
    - [Ext] getNumberOfTokenHolders
    - [Pub] getAccount
    - [Ext] getAccountAtIndex
    - [Prv] canAutoClaim
    - [Int] setBalance #
    - [Int] processAccount #
    - [Int] processAccountWithReward #